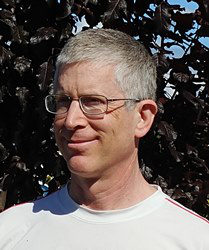 Contact
mccarthy@K.E, where K=kestrel and E=edu
Bio
My primary interest is formal verification of R1CS (Rank 1 Constraint Systems), which are used for zero knowledge proofs such as zk-SNARKs and bulletproofs.
I am also working on the ACL2 Ethereum project.
My past work includes:
The DerivationMiner project, where I developed (in Python) the "big code" pipeline we used to process and run machine learning on a corpus of 23 TB. I saved Java bytecode and artifacts to a Titan graph database, and ran NMF for dimension reduction. I also developed our code similarity search tool. I would like to apply these "big code" tools to corpora of smart contract code. I also learned how to use the ACL2 theorem prover and did some formal verification as part of this project.

The VIBRANCE project, where we automatically hardened Java bytecode against attacks from tainted inputs.

With Decidable Software, developed a tool using Software Refinery to automate a large source code port from a proprietary PL/I-like language to standard COBOL for a French customer. Recruited two additional full-time developers for this project.

Architect and lead developer for tools used in reinspection service, written in Python and Java. (Reasoning, post-Y2K era)

Implemented a distributed processing system for large analysis jobs. (Reasoning, Y2K era)

UX/UI design and implementation for Y2K analysts. (Reasoning, Y2K era)

Extended Intervista UI toolkit and Dialect grammar compiler to handle Japanese text. (Reasoning, Software Refinery era)

Software Refinery core developer for 15 years, bringing into production the Refine IDE, Dialect grammar compiler, Intervista UI toolkit, REFINE/Ada, REFINE/C, REFINE/COBOL, and REFINE/FORTRAN static analysis products. Programming in Lisp and Refine.
I received a degree in Mathematical Sciences from Stanford University in 1984.